Sierra Snow (Outfit)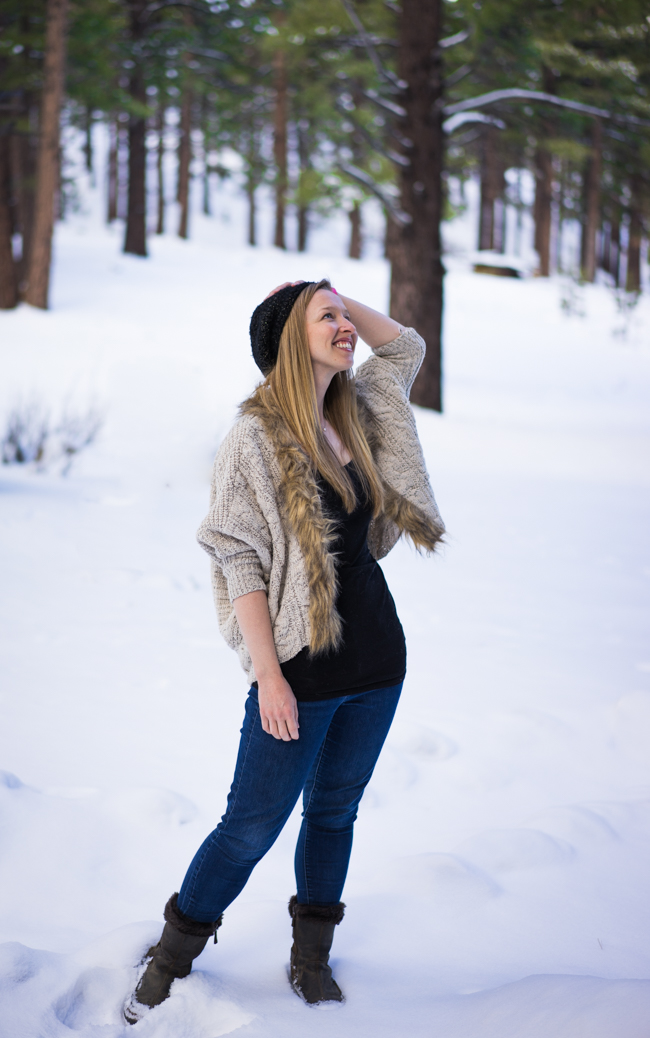 location:
Reno

Cozy neutrals are keeping me warm this winter!
Happy New Year, ladies! I hope you all had an amazing holiday season filled with love and warmth and powdery snow (if that's your thing). Two months ago, I'd already experienced snow in Alaska, but now that it's January, winter weather has spread further south. I just arrived in Reno earlier this week, and it's colder than usual. Billboards around town are bragging that they're getting the best snow they've had in years up here! I generally hate the cold, but I do like snow, so we're going skiing tomorrow — Yay! — and as usual, ski apparel took up a large amount of space in my suitcase this trip. But playtime isn't the only thing on my agenda, and since most days I'm frequenting local coffee shops to work on my online businesses, I did need to pack some comfy workday clothes:  a loose sweater — the cardigan here is actually 'plus size' — with a warm hat, warm boots, my favorite jeans (and maybe some long underwear if it's extra chilly)… yeah… I can stay pretty happy despite the cold. And speaking of cold weather blues, I'm trying something new! Since my activity level plummets in cold weather destinations, I finally got a fitness tracker to remind me to make an effort to keep moving. (So far I've only made it to 40% of my goal number of steps each day, but I'm hoping to improve on that in the new year.) I can't wait to see what 2016 has in store for me, and I hope it sends some amazing things your way, too! I wish you all the very best in 2016!
Note: The cardigan in this post was provided to Stylish Travel Girl free of charge by SammyDress.com for consideration in our outfit post series on this blog. No monetary compensation was received, and as always, only products and apparel tested and approved by STG staff are featured on this blog.
photographer: Ian Norman
Author Profile
Diana is an outspoken, DIY-ing, star-chasing, hockey-loving, dog-owning, veggie-eating professional wanderer. And that's not the half of it. Not long ago she jumped ship from a comfy, predictable American life, sold all her stuff, and set out to explore the unknown. Now a full-time traveler, Diana believes that spontaneity, a smile, and an organized suitcase are the three key elements to a happy nomadic existence. Follow her personal travels on North To South.