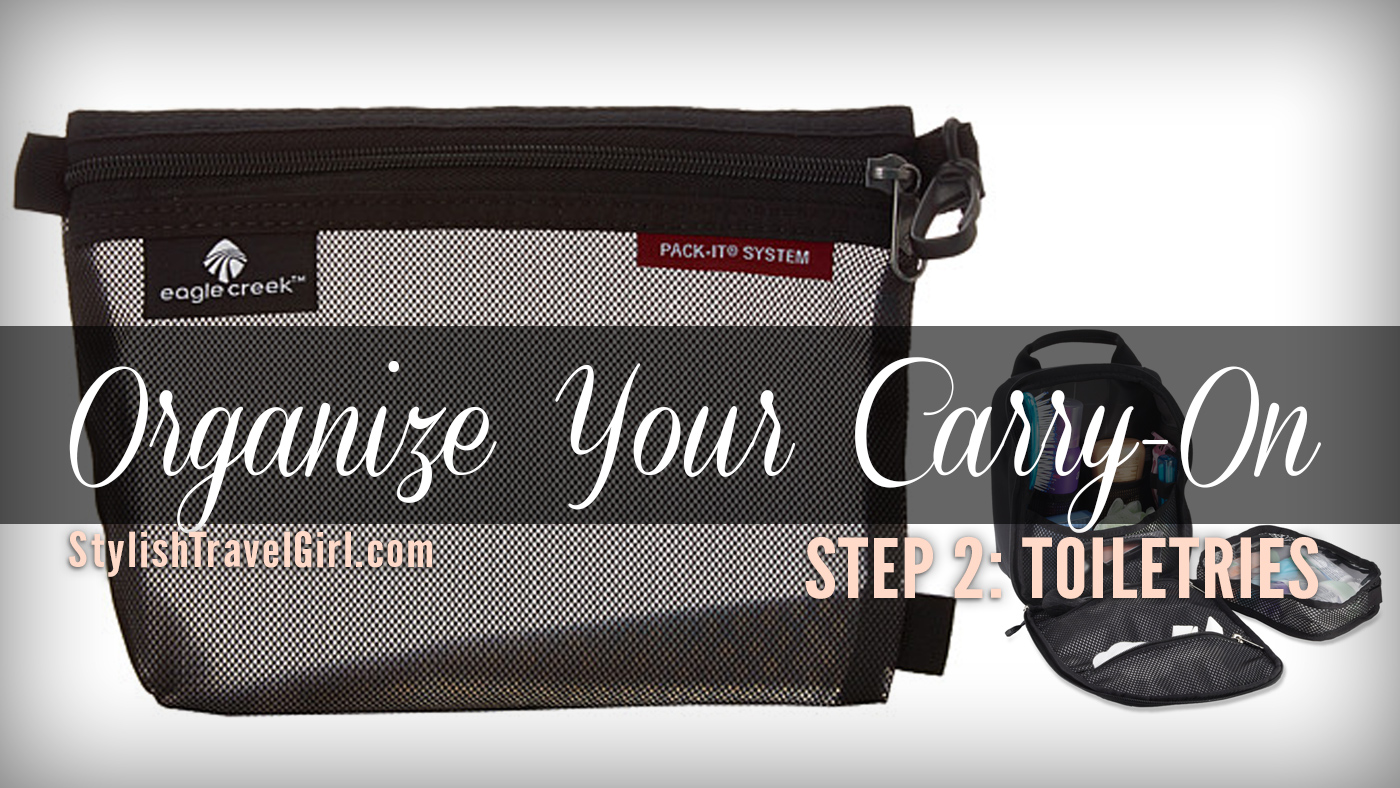 Organize Your Carry-On Step 2: Keep Your TOILETRIES Tidy
Step 2: Keep Your TOILETRIES Tidy // Choose the right packing strategy for your toiletries
Choose between a basic container or a reasonably-sized organizer (or combine them) to keep your toiletries tidy in your carry-on.
Getting your toiletries organized can be one of the biggest packing challenges because you're likely using them right up to the day of your departure! If you don't already have some reusable travel-sized bottles, it's high time you invested in some. Those are absolutely essential for successful carry-on packing. But having a neatly organized container for all your shower essentials is the easiest way to ensure you won't forget anything. Whether you can be showered and ready in under 15 minutes with less than 5 products required, or you have a 20+ step daily beauty regimen, the right organizer can improve both your packing and primping experience. 
A NOTE ON PACKING TOILETRIES: When traveling carry-on by plane, you have to select your liquids carefully. If you're a US traveler, you're likely well aware of the TSA's 3-1-1 Liquids Rule. Pack your liquids separate from other toiletries, under 3.4 oz each, and within the overall size limit of a 1-quart ziplock. Be aware of the exceptions, which don't have to fit in that bag OR be under 3.4 oz, and be sure to declare those items before your screening begins to avoid extra screening. I keep my full-sized bottle of contact solution separate from my other toiletries for this reason. And don't forget, if something doesn't fit, you can always buy toiletries at your destination.

Basic Toiletry Containers
Sometimes simplicity is the best way to go. And the cheapest. A Ziploc bag or a higher quality transparent container that mimics its shape and size will do just fine for your liquids — and satisfy TSA.
Quart-Sized Ziploc Bag
$3.98/50-ct pack on Amazon.com
TSA-friendly
Eagle Creek Small Pack-It Sac (pictured)
$8.50 on Zappos.com
Small dimensions: 8.5″ x 6″ x 2″
3 color options
Attached clip is perfect for keeping your toiletries out of your bag for ease at security.
Medium-Sized Toiletry Organizers
If you're like most travelers and a Ziploc won't cut if for all your toiletries (non liquids included), then a medium-sized organizer may be best for you. If you're traveling super light, you can save a Ziploc-sized space inside for your liquids to keep all your toiletries in one place once you've reached your destination. A medium-sized organizer should be large enough for all your essentials but will still fit easily in a carry-on. Plus they've got added perks like handles and hooks for hanging!
Eagle Creek Pack-It Specter Quick Trip Toiletry Organizer
$24.00 on REI.com
Dimensions: 10″ x 5.5″ x 4″
4 color options
Attached handle
Eagle Creek Pack-It Specter Wallaby (pictured)
$38.00 on REI.com
Dimensions: 10″ x 7″ x 3″
5 color options
Attached hanger and handle
Bigger Toiletry Organizers
These are for you 20-steppers, and begin to push the limits of a "reasonable" size for carry-on travel. But we understand that sometimes you just need more room (i.e. when sharing a carry-on with your significant other). Choose a shape that compliments the rest of your carry-on's contents.
Eagle Creek Pack-It Specter On-Board
$45.00 on Zappos.com
Dimensions: 10″ x 9″ x 4″
3 color options
Attached hanger and handle
$36.00 on Zappos.com
Dimensions: 13.5″ x 8.5″ x 3″
3 color options
Attached hanger and handle
REI Grande Shower Kit (pictured)
$29.50 on REI.com
Dimensions: 9.5″ x 8″ x 4″
1 color option
Attached handle
eBags Pack-It-Flat Toiletry Kit
$29.99 on Amazon.com
Dimensions: 15″ x 9″ x 2″
5 color options
Attached hanger and handle
Our Picks
It's kinda like adding a clip to a Ziploc bag. You put your liquids in the Ziploc to appease the security screeners at the airport, put that neatly inside your more durable spill-resistant Pack-It Sac, and clip that to the outside of your carry-on so you can easily pull out your liquids for TSA. Easy peasy. I recommend having this or something similar as the start for any toiletry carry-on set.
For a medium organizer, we'd choose the Quick Trip. It's got two exterior zippered pockets which are perfect for your toothbrush, toothpaste and contact case. The one downfall? It won't easily fit a full Ziploc of liquids directly inside, so for air travel, you'll want to pair this with the basic combo above (clip the Pack-It Sac to the Quick-Trip's handle to keep your toiletries together).
OR — For an all-in-one solution, just use an appropriately sized packing cube. There's no fancy pockets, but it's cheap, and you can fit your Ziploc in with your dry essentials.
This one's got the greatest versatility. It's got 4 separate sections, the hanging hook is removable, and (our favorite part) it lies FLAT in your carry-on. Place it at the top of your luggage for easy access once you've reached your destination. As with the Quick Trip, there's no great way to keep your liquids separate for security screening with this bag alone, so you should pair this with the basic combo.
What's The Next Step in Organizing Your Carry-On?
Take me back to Step 1: Keep Your CLOTHING Organized
Take me back to Intro to Packing Containers: Organize Your Carry-On in 4 Steps!

Sign Up for Our Newsletter
Don't miss the next steps, plus next week's article: FINDING THE RIGHT PACKING CONTAINER COMBO FOR YOU!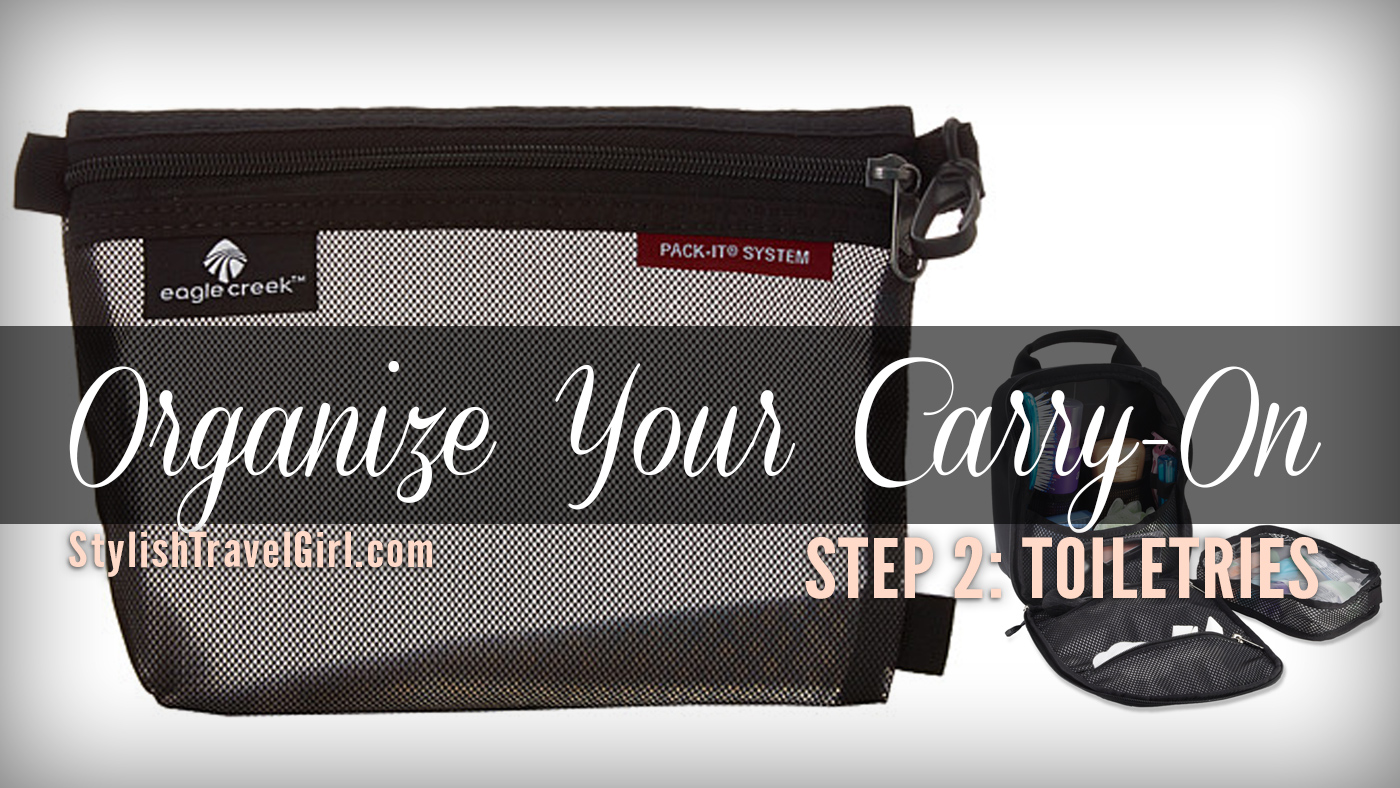 Author Profile
Diana is an outspoken, DIY-ing, star-chasing, hockey-loving, dog-owning, veggie-eating professional wanderer. And that's not the half of it. Not long ago she jumped ship from a comfy, predictable American life, sold all her stuff, and set out to explore the unknown. Now a full-time traveler, Diana believes that spontaneity, a smile, and an organized suitcase are the three key elements to a happy nomadic existence. Follow her personal travels on North To South.