Cozy Cute Camping in New Zealand (Outfit)
location:
Queenstown

Spring is approaching in the Southern Hemisphere, but I'm pretending it's fall.
My fiancé and I have been looking forward to our New Zealand trip since we booked our plane tickets in April. But as summer was ending and school was starting back home in California, I was beginning to regret our decision to travel far away during fall. I was going to miss the most colorful season in the U.S. and all the delicious fall recipes, and the pumpkin — oh, the pumpkin everything in stores — and suddenly I was dying to go apple picking, which is something I haven't even done in about ten years. Needless to say, we weren't about to let our multi-thousand dollar plane tickets go to waste, so we departed for New Zealand in mid-September. And it turns out spring in New Zealand isn't too far off from fall back home. Sure, the bright fall colors may be missing, but the vibrant spring green makes for some enjoyable scenery. And the same crisp chill you get in fall is definitely in the air here too. And we're camping, which is totally an activity I associate with fall. And the similar weather and activities mean I get to feel cozy in my favorite fall wardrobe pieces, even though it's actually spring. Warm vest (it's reversible!), wool socks, cozy boots, cute hat, favorite jeans… Those are the biggies. And I'm happy to have another chance to wear the active cold-weather top I bought in Iceland this past spring. Since we're camping, I'm not wearing makeup daily, but I did bring some along for our city exploration time in the slightly more fashionable places we've encountered, like Queenstown, where we settled down for some urban van camping for a couple of days. Luckily my Estée Lauder eyeshadow compact includes a mirror which has been a huge savior in our mirrorless camper van — whenever, you know, stealing the rear view mirror isn't exactly appropriate. 😉
With one day left in New Zealand, followed by a couple weeks in Australia and a few days in Fiji, I'm learning to embrace the spring. But I'm pretty excited to go pumpkin crazy this November!
.
| | | |
| --- | --- | --- |
| Vest | Hat | Top |
| Socks | Boots | Jeans |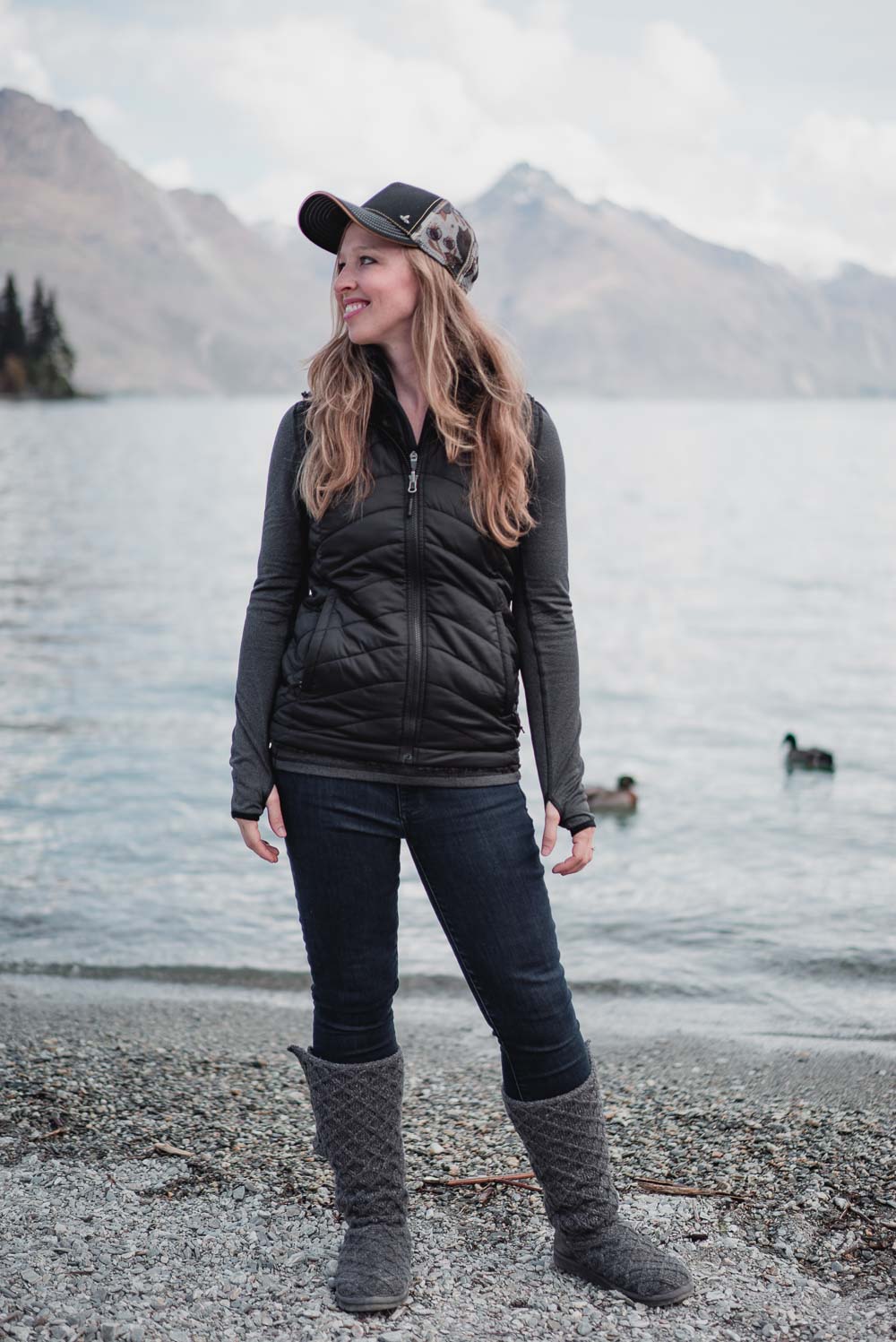 photographer: Ian Norman
Author Profile
Diana is an outspoken, DIY-ing, star-chasing, hockey-loving, dog-owning, veggie-eating professional wanderer. And that's not the half of it. Not long ago she jumped ship from a comfy, predictable American life, sold all her stuff, and set out to explore the unknown. Now a full-time traveler, Diana believes that spontaneity, a smile, and an organized suitcase are the three key elements to a happy nomadic existence. Follow her personal travels on North To South.