What to Wear on a Ziplining Tour
Last week I tried ziplining for the first time. It was awesome. The boyfriend and I went to Arenal Volcano in Costa Rica to celebrate our 3-year anniversary, and the views were absolutely breathtaking — even better taken in from high above the rainforest canopy. If you're thinking about giving ziplining a try, DO IT! Just make sure you pack accordingly. 
Ziplining Gear
If you'll be ziplining as part of a tour like I did, your ziplining gear rental should be included in the activity price. You'll be outfitted with:
harness – There are a few variations of ziplining harnesses. Yours may be secured around your hips and each thigh (like the kind I wore on my tour), or it may have straps that wrap around your shoulders as well. Your guides should help you adjust it for a snug yet comfortable fit.
helmet – This will protect your head from hitting the cable.
trolley – This is the mechanism that is secured around the cable, which allows you to slide quickly along. There are variations in these as well. On my tour, we had a large metal trolley with handles that you hold onto while you ride. Other set-ups may require you to hold onto your strap as you ride.
carabiners – You'll have a few of these. Your harness will be connected to your trolley via two carabiner and a strap, and a second set connecting your harness to a carabiner placed directly on the line will provide back-up security in case of failure with your trolley.
gloves – These may be provided if you'll be holding onto a trolley with handles.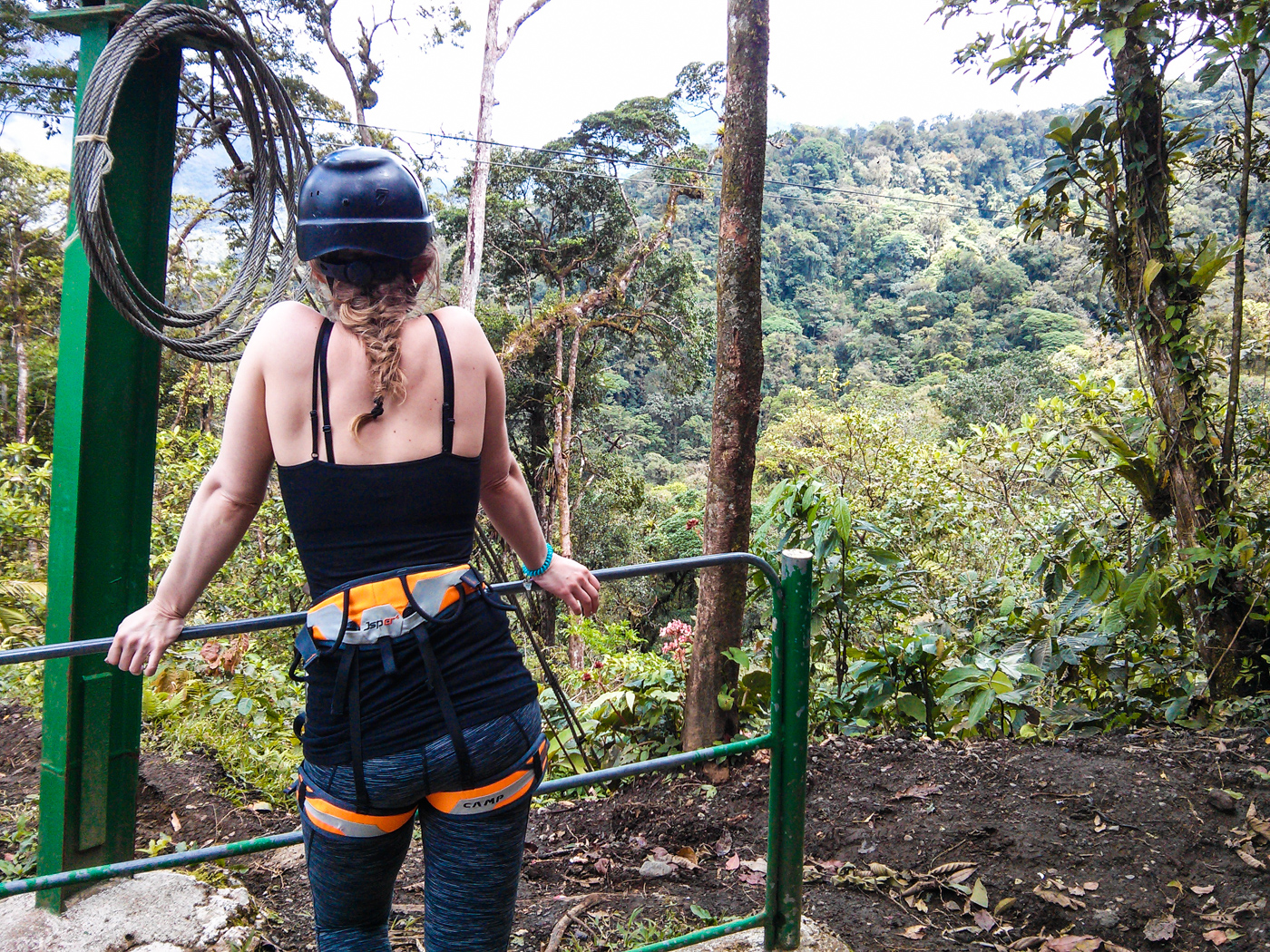 Want to know what ziplining is like? Watch a video of my first ziplining experience on my personal travel blog here.
What to Wear Ziplining
Of course your exact outfit will depend highly on the weather, but here are my general recommendations:
leggings, active/convertible pants, or long shorts — The more flex in your material, the better. Avoid short shorts. You'll be opening your legs wide to stop at the end of your run, so don't wear anything that would be revealing in that situation.
active top — I wore a sports bra and tank top. It was cloudy, shady and a little breezy, so I might also recommend the next item.
light jacket — This is dependent where exactly you're ziplining. In Costa Rica, at Arenal Volcano, it was chilly enough up high to warrant wearing one, and most people in our group did wear a lightweight jacket on the tour. If it's got zippered pockets, even better! You can take your cell phone along to snap some photos on the platforms. I was still mostly comfortable without a jacket, though.
active, closed-toe shoes — Wear something that won't fall off; your guides likely won't allow flip flops or sandals.
For the man in your life:
comfortable pants or shorts — Again, the more flexible, the better.
t-shirt — Short or long-sleeved, depending on weather.
light jacket — Same reasoning as above.
active, close-toed shoes — Again, same as above.
Other items you may consider taking:
sunglasses — Not just for the sun, these will protect your eyes from drying out in the wind, so you'll get the best view. Just make sure they're always on your face; never take them off and put them in an unzipped pocket or you'll surely lose them.
sunscreen — Put it on before you head up, since you likely won't be taking it with you.
bug spray — This is also dependent on the area, but if you're anywhere tropical or humid, I'd recommend it!
ponytail holder — I wore a french braid so my helmet would fit comfortably over my hair.
GoPro with helmet or chest strap — We rented one for $42 on our tour. If you have your own, take it!
small camera or cell phone — Your tour may not allow taking anything with you, but if you've got a small item in a fully-zipped pocket, you may be okay taking it. My boyfriend took his cell phone in the zipped side pocket of his cargo shorts. This way you can avoid purchasing the pricey photos taken by your tour company by taking your own instead.
Now have fun ziplining! If you go  — or if you've already been — let us know what you wore in the comments!
Author Profile
Diana is an outspoken, DIY-ing, star-chasing, hockey-loving, dog-owning, veggie-eating professional wanderer. And that's not the half of it. Not long ago she jumped ship from a comfy, predictable American life, sold all her stuff, and set out to explore the unknown. Now a full-time traveler, Diana believes that spontaneity, a smile, and an organized suitcase are the three key elements to a happy nomadic existence. Follow her personal travels on North To South.