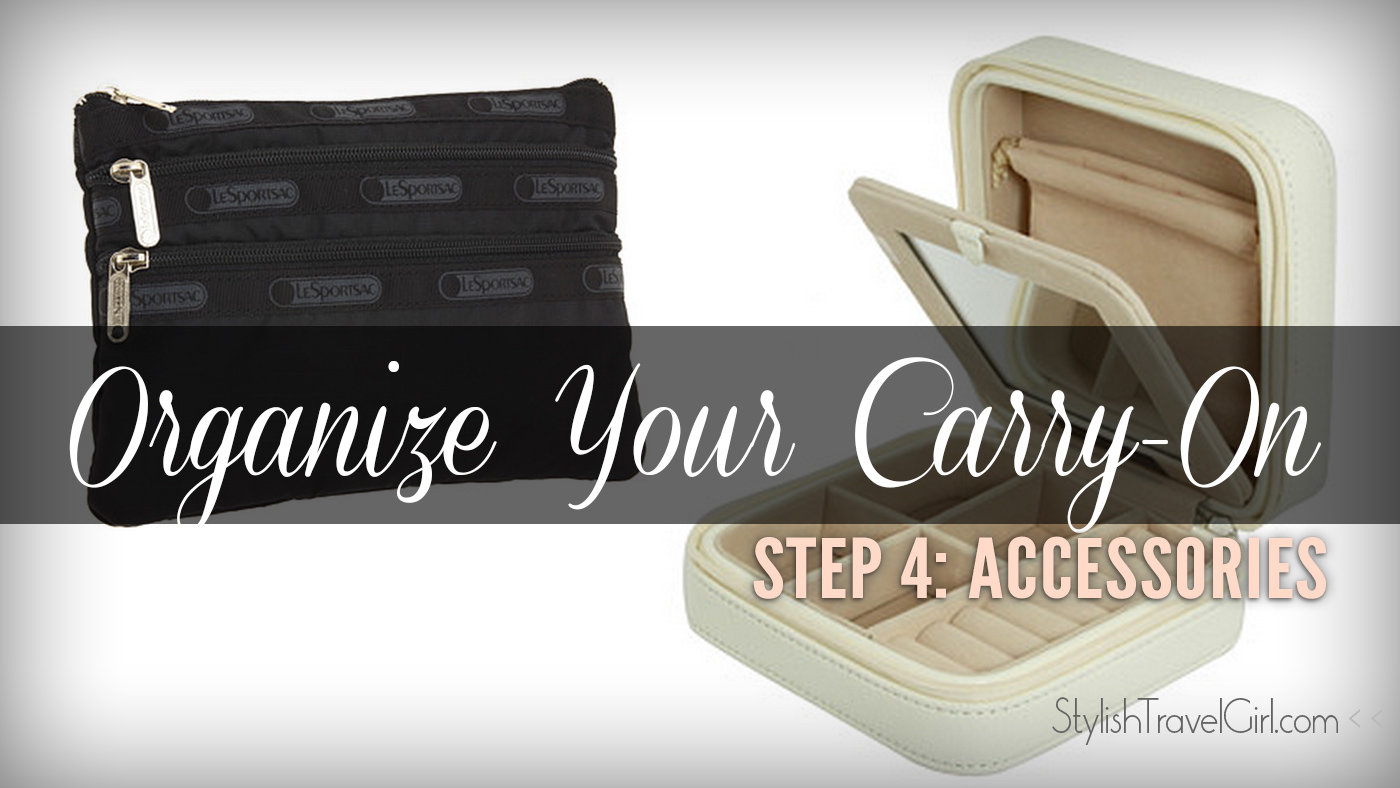 Organize Your Carry-On Step 4: Keep Your ACCESSORIES Orderly
Step 4: Keep Your ACCESSORIES Orderly // Choose the right packing container(s) for your accessories
All kinds of cosmetic cases, jewelry organizers, and padded pouches exist to keep ALL your accessories organized in your carry-on.
Small things are prone to getting lost, and tech gadgets can be easily bumped and scratched during your journey, so keep them organized in their own containers. If it's not always in your purse, then your camera, tablet, or [insert your favorite tech item here] should have a designated home while you're traveling. 
Cosmetic Organizers
When it comes to makeup, it's easy to take more than you need. It's also easy to forget to separate your liquids for security screening. (Oops!) Narrow it down to your essentials, and don't forget to pack your liquid makeup in your one-quart Ziplock for the TSA line. And if you've got room in your toiletry organizer, you don't even need one of these! Just put your makeup in its own Ziplock bag.
Baggallini Foldout Cosmetic Bag
$49.95 on Zappos.com
Dimensions: 10″ x 7″ x 3.5″
2 color options
LeSportsac 3-Zip Cosmetic Case (pictured)
$20.00 on Zappos.com
Dimensions: 7″ x 5″ x .5″
2 color options
LeSportsac Luggage 3-pc Travel Set
$52.00 on Zappos.com
Dimensions: vary (3 sizes included in set)
3 pattern options
Jewelry Organizers
If your jewelry won't fare well in a handy Ziplock, invest in a travel-appropriate jewelry box. This will keep everything together and easy to access. Plus, you can use these for storage at home, too.
Padded Pouches
You don't want your camera banging up against anything else in your bag. A home with some padding will prevent you from worrying too much about your pricey gadgets. Choose a size that's appropriate for the tech items you can't travel without.
Our Picks
This cosmetic case is just the right size for carry-on travel, and it has multiple sections for optimal organization. Snaz up your suitcase and get this one in black patent.
When you're traveling a lot, you grow weary of the Ziploc solution. If you want something fancier and easier to re-seal, we're fans of the Mele Travel Square Jewelry Box. The zipper closure is a big plus!
This one wasn't a tough decision. eBags packing products are well-reviewed in general, and their padded pouches are no exception. A 3-piece multi-size pack is only $20, so if you're packing tech gear in a variety of sizes, this is a good way to go.
Congratulations! You've Organized Your Carry-On!
Take me back to Step 3: Keep Your SHOES Separate
Take me back to Step 2: Keep Your TOILETRIES Tidy
Take me back to Step 1: Keep Your CLOTHING Organized
Take me back to Intro to Packing Containers: Organize Your Carry-On in 4 Steps!
Sign Up for Our Newsletter
Want more packing advice, just like this?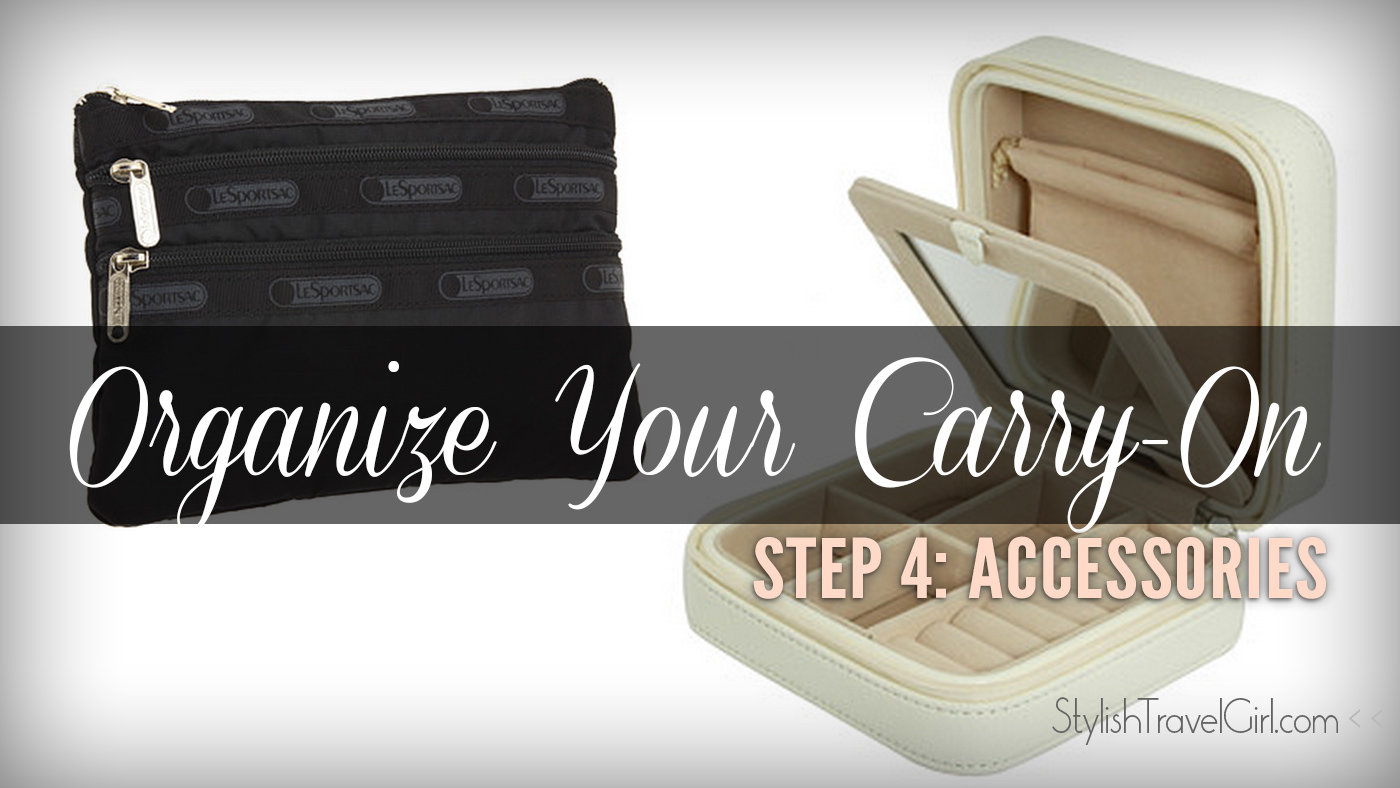 Author Profile
Diana is an outspoken, DIY-ing, star-chasing, hockey-loving, dog-owning, veggie-eating professional wanderer. And that's not the half of it. Not long ago she jumped ship from a comfy, predictable American life, sold all her stuff, and set out to explore the unknown. Now a full-time traveler, Diana believes that spontaneity, a smile, and an organized suitcase are the three key elements to a happy nomadic existence. Follow her personal travels on North To South.