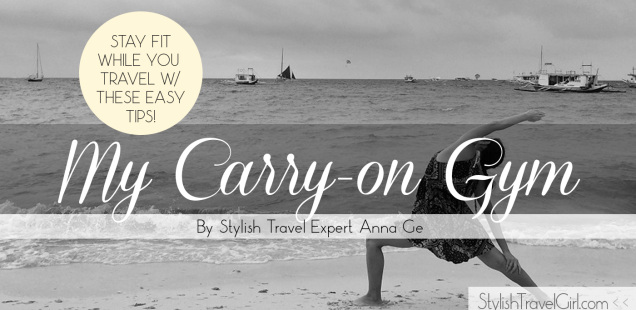 My Carry-on Gym: Packable Tools and the Best Online Resources for Exercising on the Road
When I started traveling, one thing I quickly learned was that travel opens you up to a whole new world of food. It acquaints you with flavors and spices and meats and strange drinks that you can't get back home. Tantalizing window displays of delicate cakes and delicious aromas from street vendors tempt you everywhere you go. And so, I ate.
But soon, I struggled to maintain a healthy lifestyle. The damages quickly added up… in the form of extra pounds and cellulite. I hated that I no longer worked out, only relying on walking to burn off all those calories (which does little good). I knew I needed to find a way to exercise while traveling, especially if I wanted to continue to eat.
When I made a brief stop home, I repacked my bag. I travel with only a carry-on, but I willingly sacrificed some clothes in order to bring with me a couple pieces of exercise equipment. And today, I'm going to share with you how I keep fit while traveling.
The only three things I need to work out
You don't need anything fancy to get a good full-body workout! Whether you're a long term traveler or a vacationer, you can bring your little gym with you on the road! My personal gym consists of only three items. And the best part? They all fit in my carry-on bag without taking up too much space.
a foldable travel yoga mat
a resistance band
a laptop
1 . The Manduka eKO SuperLite travel mat folds or rolls up very small. It's not particularly light (at 2 pounds), but it hardly takes up any space at all if packed smartly (it can even be rolled up small enough to fit inside an average medium purse!). I fold mine and lay it flat at the bottom of my backpack and put my packing cubes on top of it.
And as a bonus, having a yoga mat on the road can serve several purposes! It's handy to bring to venues where you know there won't be chairs (such as festivals and picnics). It even works as a beach mat!
2. The SPRI resistance band (available in a variety of resistance levels) is great for strengthening and toning. I snake mine along the edge of my luggage so it doesn't take up any extra room. Here is a list of band exercises (with gifs), though some are tough to do alone. If you travel with others, that's even better because then your partner can hold the other end, which will allow you to perform more exercises!
3. If you work best in class settings, look no further than your laptop and an internet connection! I love the invention of YouTube, where you can take exercise classes from the comfort of your home, on your own time. The good part is that now you literally have no excuse not to stay active. The bad part is that you have to be really self-motivated when you don't have an instructor yelling over your shoulder.
Here are my recommendations of some YouTube channels I like:
Exercises: no equipment necessary!
And lastly, there are a number of pure body weight exercises (i.e. no equipment required!). Here is a table of different body weight exercises (this is a really really good resource). Click through each box for a short clip explaining how to perform it. Some of my staples are:
elbow planks (targets the core)
a set of 10 burpees (targets full body)
push-ups on knees (targets arms & chest)
bicycles (targets the core)
squats and lunges (target the legs)
With just these items (or even nothing at all!), a little bit of space, and a lot of self motivation, you can perform literally hundreds of different exercises and bring your work outs with you on the road! Not having access to a gym is no longer an excuse. Let's all stay healthy together!
Are you ready to work out on the road too? What are some ways you stay healthy while traveling?
Author Profile
Anna worked as a construction manager in Los Angeles… until her life got flipped upside down when she met a boy with big dreams to travel the world. She's since shed the hardhat and now can be found gobbling down strange street food, taking too many pictures, and squealing at anything furry. On her blog, she writes about her favorite travel memories, love, food, and making sense of life as a new full-time traveler.

Follow Anna's personal travels on Facebook, Bloglovin, or at slightlyastray.com
Latest entries