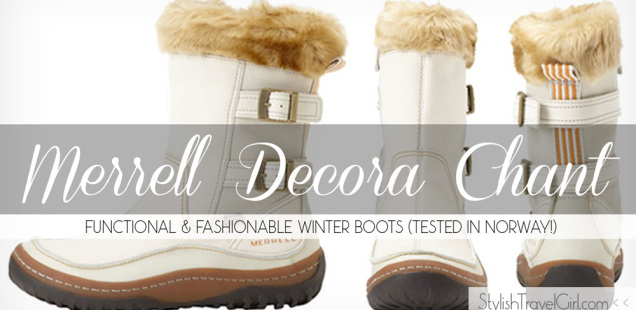 Merrell Decora Chant: Keep your toes toasty in these winter boots (tested in Norway!)
Note: This article was originally written in October 2014. It has been updated to include an additional place I've worn them and a photo of the boots in use!
When you're a minimalist traveler shopping for shoes, quality is extremely important. Early this year, I needed boots for a trip to Norway. They had to withstand cold temps, rain, and possibly snow. I've never put as much effort into a shoe search than I did for these boots. And my efforts were well rewarded. I found myself a warm, waterproof, quality boot that was also stylish!
Merrell Decora Chant Waterproof Winter Boots
Seasons to Wear 'Em: fall, winter + spring
When these arrived, I immediately loved them. They were clearly high quality, and with a side-zip design they were very easy to put on. They're definitely a cold weather boot, so I haven't worn them since wearing them for a month in Norway, but 30 days straight in the same shoe was proof to me that this is a fantastic boot. My feet never got wet, despite splashing around in puddles, slush, and ankle deep snow.
I've got these in dark brown ("mocha"), but they also come in black and white, for a totally different look. They're a bit pricey — $190 — but believe me, they're worth every penny. Mine still look brand new.
A rundown of my experience with this shoe
Where they've been: Fjord Norway, Berlin, Lake Tahoe
What they've done best: Walking or hiking in cold or wet weather, cold weather sailing, splashing around Lake Tahoe's shoreline in winter, stomping around in snow and slush, and they're surprisingly comfortable when riding a bicycle, too.
Where they're not so hot: In your suitcase. They take up a lot of room. I wear these on the plane to save packing space. Also, I'd imagine these would be pretty uncomfortable in hot weather, but I can't say that I've tried.
What's great about them: They're both cute AND comfortable (yay!) and they keep my feet warm. They're leather, so they'll last forever. Wear with a pair of wool socks and you're set for winter. Just about any pants style works with these, too, but they pair best with a pair of warm leggings or skinny jeans.
Color Lineup: white, black, mocha, falcon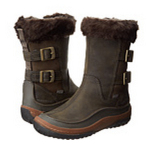 Where to Buy the Decora Chant
These boots are available on Amazon or Zappos.com. I prefer Zappos because of their return policy, but Amazon may offer a lower price on some colors and sizes. [UPDATE] As of Feb 4, 2015, Amazon's price range started at $128 for this boot.
Have you tried the Merrell Decora Chant or another stylish and durable winter boot that you've liked? Share your thoughts on this boot with the STG community in the comments below.
This article was handcrafted especially for you from Comma Coffee in Carson City, Nevada and re-vamped during my travels in Los Angeles.
Author Profile
Diana is an outspoken, DIY-ing, star-chasing, hockey-loving, dog-owning, veggie-eating professional wanderer. And that's not the half of it. Not long ago she jumped ship from a comfy, predictable American life, sold all her stuff, and set out to explore the unknown. Now a full-time traveler, Diana believes that spontaneity, a smile, and an organized suitcase are the three key elements to a happy nomadic existence. Follow her personal travels on North To South.